Last Updated on July 15, 2022 by admin
Best Digital Marketing Online Degrees
Marketing is a crucial element of basically all companies and organizations and has been for almost two hundred years… Digital marketing has become not only an addition, but a necesessity nowadays! For creative or analyitical people, this can be ideal field to enjoy a safe, flexible and very lucrative career!
Related Topics (Sponsored Ads):
This digital world is the world of various digital media that is on the internet, smartphones and computers. While the presence of physical and traditional media (such as print, signs, broadcast, mail) is still quite large and important, the use and importance of digital media (search engines, websites, apps, social media, email, blogs) has grown tremendously. This has come about due to the growing use and importance of the internet, software, apps, smartphones and other digital devices.
Because of this, nearly all businesses and organizations need to use various digital media to reach and interact with their customers and clients. This takes personnel skilled and educated in the field of digital marketing. To meet this need, many colleges and universities started degree programs in Digital Marketing – including ones you can take online. What kind of subjects are studied for a Digital Marketing degree? The following are major examples:
– Search Engine Optimization: SEO, is one of the cornerstones of digital marketing. SEO revolves around where a company or organization is listed on search engines such as Google. The more prominent the company is, the better.
– Social Media Management: Social media, like Instagram, Twitter and FaceBook, is an important part of any company's online presence, and active social media accounts can add credibility for the company. Managing social media properly is a true art form because each platform is different, and there are specific times and dates when it's most advantageous to post.
– Digital Strategy Development:. Courses on developing long and short-term digital strategies are great tools in a digital marketer's toolkit, as they allow them to see the bigger picture and then create actionable steps and milestones to get to a specific goal. Digital strategy is a higher-level function of digital marketing and is absolutely critical when it comes to overall success.
Listed below are the best online degree programs in Digital Marketing.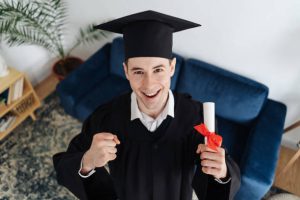 Arkansas State University
Arkansas State U offers an online Bachelor's of Science in Strategic Communication with Social Media Management certification. This program consists of 120 course credits, including 36 credits of core courses. The curriculum is career focused, with the goal to develop students to become media professionals with expertise in social media strategies.
This university offers an online Bachelor's of Science in Business – specializing in Digital Marketing Management. Core courses include Branding, Digital Marketing Management, Social Media for Business, and Financial Management. Students learn essential skills such as how to develop effective media campaigns, perform online media research, manage digital media tools and apps, and more.
California Baptist University
Cal Baptist offers a Bachelor of Arts in Graphic Design and Digital Media, totally online. Graphical elements and content of digital media are an integral part of digital marketing. This program consists of 48 credits required of major courses and can be completed in as little as 16 months. Cal Baptist has been ranked as Best Online Bachelor's Program by U.S. News & World Report.
Johnson and Wales University
J and W U offers a Bachelor's of Science in Digital Marketing and Social Media, completely online. The program's goal is to train students to be professionals who can effectively communicate brand messaging across different digital platforms. Courses are 11 weeks long and the entire degree takes about four years to complete.
New England College of Business
NECB offers an online Bachelor's of Science in Digital Marketing, with the program's goal is to train students to develop in-depth knowledge and skills in web development, design, and advertising. Course work includes web analytics, digital content, search engine optimization, email marketing, automated online tools, and viral marketing.
OSU offers both an online Bachelor's of Arts in Business Administration – Digital Marketing and Bachelor's of Science in Business Administration – Digital Marketing. This program provides students with a solid business background while specializing in Digital Marketing. Major course work includes digital marketing strategy, planning, design, and evaluation.
Point U offers an online Bachelor's of Science in Social Media Marketing. The program's emphasis is on using social media as an effective tool for business and marketing. Core curriculum educates students to identify marketing trends, analyze traffic, and develop successful campaigns.
University of Wisconsin – Stout
UW – Stout offers a Bachelor's of Science in Digital Marketing Technology, either online or on campus. The program covers both theory and the practical application of theory. Curriculum includes marketing research, creating web applications, evaluating processes, and using data to support user interaction.
Related Topics (Sponsored Ads):