Last Updated on July 18, 2022 by admin
Best Online Stores For Summer Dresses For Women Over 50
Summertime is here, and yet again, you're looking at your wardrobe and shaking your head. All those clothes from previous summers are starting to wear out and have long gone out of style. It's time for a closet refresh, and summer dresses are so in this summer season.
Related Topics (Sponsored Ads):
Summer dresses are made from a light and flowy material so you'll stay cool while you're out and about. Summer dresses are also very colorful and versatile, so they'll go beautifully with a lot of your shoes, jewelry, hats and more. You can find them in a large variety of styles.
Being a senior woman, however, you might be trying to find pretty summer dresses online that are specifically designed to flatter your particular body and figure, but so many are made for slimmer and younger women. Anyone would get frustrated after a while. But there's no need to search any further. Just because you've hit your 50's or above, doesn't mean that you have to give up fashionable and stylish dresses and all clothing types. If you know how to dress well, people will find themselves staring at your beauty and good taste with quiet admiration.
Listed below are some of the best online stores to buy summer dresses made specially for mature and wiser women.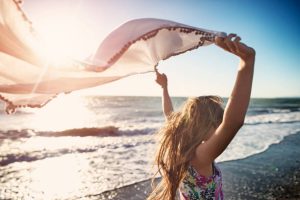 Bloomingdale's is one of the most widely known and iconic stores that offers a variety of high quality brands, and has a loyal following of senior and wiser women who can easily find clothing that they feel comfortable and stylish in. Bloomies, as the regulars like to call it, is over 100 years old and still going strong. Bloomingdale's online store may be on the pricier side in comparison to others, but they're products are top quality, beautiful and sure to last a very long time.
They offer special "Loyalist" membership deals that include points and free shipments and returns, special open sales on various days of the year, interest- free payments, professional online customer support, curbside and in – store pickup, and same- day delivery.
Top Rated Summer Dress: Lost and Wander- Sweet Summer Daze Maxi Dress
Bloomingdale's Price: $128.00
Ann Taylor's online store offers classic and elegant designs tailored for the professional woman in mind. The timeless collections are perfect for women of all ages. Many senior aged women love the excellent fits and quality fabrics. Anne Taylor is generally less expensive than Bloomies, yet still retains the high quality fabrics and gorgeous designs.
So what else can you find in Ann Taylor's bag of goodies? Free shipping with purchases of $150 or more, interest- free payments with PayPal (limited to purchases between $30.00 – $1,500), wide range of sizes starting from XXS to XXL, and easy order tracking.
Top Rated Summer Dress: Tropical Square Neck Midi Flare Dress
Ann Taylor's Price: $159.00
Chico's rose to the top of the mature women's clothing market by consistently offering quality items that are specially designed for women aged 50 and beyond. Chico's price ranges vary somewhat, but they're typically a bit less pricey than Ann Taylor and carry a great selection of summer dress styles and colors.
These are just a few of the cool stuff that Chico's online store offers- Easy order tracking, PayPal payments with purchases of at least $27.23, very small to very large sizes, trustworthy return and exchange policies, and a super helpful "find your size" feature.
Top Rated Summer Dress: Classic Pleated Paisley Dress
Chico's Price: $108.00
If you're on a limited budget and don't want anything too fancy, then Target is what you should aim for. They've got an array of cute summer dresses that won't dig into your wallet. With their low, super affordable prices and decent variety of summer dresses to choose from, you're bound to find the dress that you're looking for.
Target's got some great bonuses too, such as In-store pick up that's ready within 2 hours, same day delivery, free shipping with their "Red Card" membership or a minimum purchase of $35.00 or higher, clearance deals and special sales throughout the year.
Top Rated Summer Dress: Knox Rose™- Women's Flutter Short Sleeve A-Line Dress
Target's Price: $35.00
You may not have heard of LightInTheBox, but many would agree that it deserves a lot more attention and notoriety in the US and worldwide. Many would also argue that it's a great alternative to other more known giant online retailers. So if you're getting a little bored of those sites, LightInTheBox is here to brighten things up. The massive selection of styles and colors that they carry may not be of the greatest quality, but they are simply irresistible.
LightInTheBox will have you seeing sparkles everywhere with their clearance sales, very competitive prices, expedited delivery option, and fairly decent return and exchange policies.
Top Rated Summer Dress: Women's Swing Midi Dress – Short Sleeve, Polka Dot Print, Ruched Pleated, Summer Square Neck
LightInTheBox's Price: $20.70
Don't let societal norms and mentalities dictate what you can or cannot wear at any age, especially when you reach the senior's club. You've worked so hard and given so much to those you love, you deserve it and owe it to yourself to shine bright, treat yourself and look your very best everyday.
Additionally, when you choose to shop online, always check the delivery, return and exchange policies before you make your purchase.
Related Topics (Sponsored Ads):