Last Updated on July 15, 2022 by admin
Online Counseling Degrees Best For Seniors in 2022
There are certain people who seem to have a natural ability and interest in helping people deal with their various problems, regarding their relationships, their mental state and other related issues. Some of these people are seniors who would like to become educated and credentialed in this role as a counselor.
Related Topics (Sponsored Ads):
It is possible in many states to become a professional counselor with an appropriate bachelor's degree and sometimes a certification as well. These counselors are not licensed therapists or psychologists, but still provide certain types of mental health services directly to "patients", usually under the supervision of a licensed mental health professional. This is similar to the role medical assistants perform under the supervision of a licensed medical professional. The most common types of areas that these counselors deal with are marriage, parenting and family issues; substance abuse; youth and student issues, employment and human resource issues and grief counseling.
Today it is possible for seniors who are interested in becoming a professional counselor to study and get their degree in counseling online, fully from the comfort and security of their own home. Plus, many of these online degree programs offer accelerated formats and options, that allow seniors to get that degree much quicker than traditional studies. Listed below are the best such online degree programs for seniors.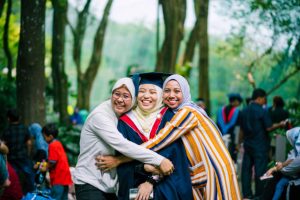 Eastern Kentucky University
EKU offers a Bachelor's of Science in Psychology with a concentration in Substance Abuse. The program consists of a 120-credit hour curriculum and is the same as the on campus classes, taught by the same faculty, and are offered in concentrated, accelerated 8-week periods. Along with core psychology studies, courses include Introduction in Behavior Therapy as well as Psychological Perspectives on Substance Abuse. You can transfer in up to 90 credit hours of appropriate, previous college work towards your degree. Tuition Cost: $417/per credit hour.
LU offers a BS in Psychology degree program, with several counseling specializations available, including crisis counseling. This program consists of 120-credit hours and each course is eight weeks long. You may be able to transfer up to 75% of the total 120 hours from prior accredited college or university course work. Core courses include Introduction to Research, General Psychology, Psychology of Personality, and Abnormal Psychology. The courses are designed to also prepare you for the option of pursuing a graduate degree. Tuition Cost: $390-$455/per credit hour.
William Jessup University
This private university offers a BS in Psychology degree program with an emphasis on counseling. It consists of 128 credit hours, with up to 90 appropriate credit hours allowed to be transferred in towards the degree. Core courses include Human Sexuality, Personality Theory and Therapy, Cognitive Psychology, and Counseling Skills. Tuition Cost: $500/per credit hour.
Colorado Christian University
CCU offers a BS in Applied Psychology degree program with a Clinical Counseling emphasis. Core courses include Behavioral Psychology, Counseling Services and Methods, Human Growth and Development, Neuroscience and Clinical Counseling, and Empathy Training. Tuition Cost: $469/per credit hour.
Southern New Hampshire University
This university is well known for its various online degree programs, including the Bachelor of Arts in Psychology with a concentration in Mental Health and other psychology specialties. The program consists of a total of 120 credit hours, of which up to 90 can be transferred in towards the degree. They charge no application fee and do not require an entrance test. Core courses include Introduction to Psychology, Abnormal Psychology, Theories of Personality, Psychology and Social Change, Research Methods, Statistical Literacy in Psychology, and studies in Counseling Process and Techniques. Tuition Cost: $320/per credit hour.
This newer private school offers a BA in Psychology And Human Development degree program, with five areas of concentration, one of which is in Counseling. Core courses include History of Gender and Sexuality, Introduction to Ethnic Studies, Interpersonal Communication, Counseling Skills, Critical Psychology, Transpersonal Psychology, and Ethics, the Law, and Professional Issues in Counseling and Psychology. No entrance exam is required. Tuition cost: $498/per credit hour.
East Central University Online
ECU offers a bachelor's degree in Human Services Counseling, consisting of 124 total credit hours. Up to 94 credits can be transferred in towards this degree. Core courses include Fundamentals in Counseling, Human Behavior and Social Environment, Interviewing Techniques, Group Processes and Practices, Counseling Services, Employment and Placement Techniques, as well as Intervention Processes and Techniques. Tuition Cost: $264/per credit hour.
This school offers a serious degree program to prepare graduates to become certified counselors. Core courses include Psychology of Personality, Counseling and Advocacy with Diverse Populations, Introduction to Counseling and Psychotherapy, Survey of Research in Human Development for Professional Counselors, Human Lifespan Development, and Biological Psychology. Plus three graduate courses are required in Foundations of Couple and Family Therapy, Family Therapy Theory and Methods, and Professional Ethics in Marriage and Family Therapy. Capella is accredited by the Commission on Accreditation for Marriage and Family Therapy Education. Tuition Cost: $357-$411/per credit hour.
Related Topics (Sponsored Ads):