Last Updated on July 15, 2022 by admin
Truck Driving Companies That Pay For Your CDL Training
The trucking industry plays a very important role in our everyday lives. The vast majority of things like food, clothing, furniture and other essential goods are all moved by truck. These items are only in the store for you to buy because a truck brought them to the store. Thus, truck drivers are an essential part of our daily living.
Related Topics (Sponsored Ads):
Because of this essential role, there is always a need for truck drivers. However, there has been a shortage of new truck drivers in the country for many years now. This has created a great employment and career opportunity for many people, as it is an "employees market", and the various trucking companies are all competing to recruit and retain new truck drivers. As a result of this competitive recruitment, many truck companies will actually pay to train you to become a truck driver – even if you have no prior experience.
The main requirement to be a truck driver is to secure a Commercial Drivers License (CDL). The trucking companies run truck driving schools where you learn how to be a driver and prepare to pass your test to secure a CDL. While there are dozens of truck driving schools across the country, most of them require you to pay for the schooling. However, the truck company schools will pay for the training. This is a significant benefit, as truck driver training usually costs many thousands of dollars. However, there is "no free lunch"' as the adage says, meaning there some drawbacks to this arrangement. The positives and negatives of going to a company paid truck driving school are discussed below. Following that, the best of these company paid training programs are listed.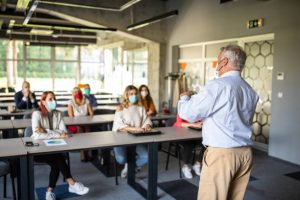 Overview of Company Paid Truck Driving Schools
The biggest positive is that you will not have to shell out and/or borrow thousands of dollars for school tuition. But the catch is that you are legally obligated to work for the sponsoring company for a number of months (typically 12) or you will have to pay the company for the tuition. Therefore, you should make sure you want to actually work for that truck company in advance, before you start the training. Of course, the other positive of this arrangement is that you will have a guaranteed job waiting for you after you finish training.
Company paid training programs are only located in select locations in the country. So you may have to temporarily relocate to the area the school is in. However, many of these programs will provide/pay for housing, meals and transportation. This is usually done in a "dormitory" type of set-up, where you basically live with other trainees while in school. Also, be aware this training is intensive – usually for about 12 weeks and often for 10 hours or more per day. So, it is a little bit like "boot camp".
Listed below are the best company paid truck driving programs.
CR England Training School
They are a very large national trucking company that is almost 100 years old. CR England has partnered with Premier Truck Driving Schools to train new recruits interested in getting their commercial driver's licenses. The company offers zero-tuition up front, paid CDL training, and operates truck driving schools in the following locations: Valparaiso, Indiana; Fontana, California; Salt Lake City, Utah; Cedar Hill, Texas and Atlanta, Georgia. They cover travel and lodging costs for their students.
Graduating students pay part of the tuition in small salary deductions for the first 11 months – about $2,000 total. The other $4,000 is covered by the company provided you stay with the company for at least 12 months.
Being in business 70 years, FFE has numerous terminals and more than 1,000 drivers, and it's the nation's largest transporter of temperature controlled LTL freight. Though FFE has numerous terminals across the country, the driving academy is held at their Lancaster, Texas (by Dallas) facility only. The training is for about 4 weeks followed by many weeks of orientation and on the road training. While training at FFE's driving academy, students will enjoy a new facility and the privacy of single rooms with private bathrooms and other amenities plus free meals.
There are no out of pocket costs and the company fully covers the tuition (no repayment) provided the graduating student stays with the company for 12 months.
KLLM primarily hauls temperature-controlled and dry freight through a number of divisions including long haul, regional, local and intermodal. They are a national carrier with a fleet of more than 1,500 company and owner-operator trucks. They have training facilities at: Jackson, Mississippi; Burns Harbor, Michigan and Lancaster, Texas. School training plus on the road training is for about five weeks. Lodging and some meals are provided during training.
The company fully covers the tuition (no repayment) provided the graduating student stays with the company for 12 months.
Prime Trucking has one of the best, longest, and most thorough driver training programs currently available. Prime's company sponsored training schools are located at: Springfield, Missouri; Pittston, Pennsylvania; and Salt Lake City, Utah. Prime provides rooms and meals for its students. The rooms are dormitory-style with two people to a room. Single person rooms are available for an additional fee. Prime provides three cafeteria-style meals per day. They also have an on campus restaurant where students can order custom meals for an extra charge.
The only upfront expense is a $100 administrative fee – which is refunded after graduation. All incoming students must sign a 1 year contract. If the contract is fulfilled, nothing is owed. But if the contract is broken at any point, the student immediately owes $4800 to Prime.
Since starting in 1962, Roehl Transport has grown into a diverse and financially stable company with over 2,000 drivers and seven terminals. Their training facilities are located at: Marshfield, WI; Neenah, WI; Conley, GA and Gary, IN. Transportation, food and lodging are provided by the company. School and on the road training lasts about six weeks. Roehl has earned multiple awards for putting the safety of their drivers as a first priority.
Roehl pays for the tuition with no repayment necessary as long as the graduating student stays with the company for 15 months or drives for 120,000 miles (whichever comes first). However, early termination will cost the student about $7,000.
Related Topics (Sponsored Ads):