Last Updated on July 15, 2022 by admin
Tuition Free Online Psychology Courses Best for Seniors
Psychology is a fascinating area of study that involves the workings of the human mind, emotions, behavior, and relationships. Seniors are interested in learning about psychology in order to understand the feelings and behaviors of themselves as well as of their friends and family. Also, to improve their relationships with friends and family.
Related Topics (Sponsored Ads):
There are numerous subjects that you can study and learn about online, but perhaps one of the most useful subjects is psychology. Studying psychology can help you understand the human mind and thus understand yourself better and more completely. This can be extremely helpful, because – no matter where you go or what you do, there YOU are. You must always deal with yourself, including your emotions, desires, and behaviors. Of course, you usually need to deal with these issues with others as well.
Thanks to distance learning (remote learning via the internet), you have the ability to take a variety of psychology courses online. Better yet, they are free and many are offered by major universities. They are there for you just to expand your knowledge, or to help you achieve meaningful self improvement. Listed below are some of these online psychology courses best for seniors.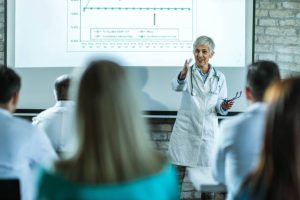 Introduction to Psychology
An MIT (Massachusetts Institute of Technology) open course offering.
Course Description: A survey course of the study of the human mind, including how the mind works, and how the brain works. Topics include perception, emotion, learning, memory, cognition, child development, personality, psychopathology, and social interaction.
Course Features: Full set of lecture videos, free online textbook, collection of online resources for further study, and set of exams with solution keys.
Normal and Abnormal Behavior
A six week long course offered by the Georgia Institute of Technology via Coursera.
Course Description: Covers complex normal and abnormal behavior patterns as determined by Psychology as a Science. Specific types of psychology discussed include personality psychology, social psychology, and abnormal psychology. Topics include psychological theories of personality, how other people influence our behavior and cognition, and diagnosis and treatment of disorders.
A two week long, 6 hours a week course offered by Monash University via FutureLearn.
Course Description: Survey course about the psychological changes that all humans go through. Learn the basics of human development, lifespan theory, stages of development and end-of-life. Explore and distinguish between social and cognitive development. Identify key transitions within human development.
Course Features: An introductory course for anyone interested in psychology – you don't need any prior experience. Includes videos, articles, peer reviews, and quizzes.
An 11 hour self improvement focused course offered by The University of North Carolina at Chapel Hill via Coursera.
Course Description: Topics covered include Positive Emotions, Mindscapes and Outcomes of Positivity, Art of Pursuing Happiness, Loving-Kindness, health benefits of positivity, and positivity benefits your relationships.
Course Features: Videos, readings, and quizzes – covering practical applications of this science that you can put to use immediately to help you live a full and meaningful life.
Offered by Wesleyan University via Coursera, this course takes approximately six hours to complete.
Course Description: An intermediate level psychology course providing an introductory exposure to the nature of the psychiatric disorder known as schizophrenia. Topics include key symptomatic features, brain imaging studies (MRI and fMRI) and neurochemistry, data and theories concerning cognition, emotion and behavior in schizophrenia, and current, evidence-based somatic and psychosocial treatment approaches and techniques.
Course Features: Presented in five modules, in which students watch a series of short video lectures, including a brief historical overview.
The Psychology, Biology, and Politics of Food
This is a full semester long course offered by Open Yale University Courses.
Course Description: Topics include taste preferences, food aversions, the regulation of hunger and satiety, food as comfort and friendship, eating as a social ritual, and social norms related to food problems such as malnutrition, eating disorders, and the global obesity epidemic.
Course Features: Full video recordings of 23 on-campus lectures plus access to a large variety of reading materials.
Understanding the Brain: The Neurobiology of Everyday Life
A 28 hour course offered by the University of Chicago via Coursera.
Course Description: Learn how the nervous system produces behavior, how we use our brain every day, and how neuroscience can explain the common problems afflicting people today. Topics include The Nervous System, Neural Communication plus Embodied Emotion, Neuroanatomy, Perception and Vision, Hearing, Vestibular Sense and Gaze, Voluntary Movements, Motor Modulation, Homeostasis, and Abstract Cognitive Functions.
Related Topics (Sponsored Ads):